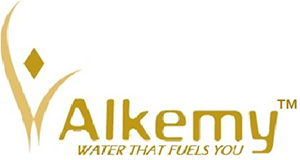 Refreshing electrolyte replenishment without the sugar and salt of the leading sports drink.
---
Q: What is Alkemy Water?
A: Alkemy Water is a simple formula of purified water with added minerals and electrolytes in a patented process that provides the best hydrating water available! It is an all-natural, zero-calorie, zero sweetener water beverage.
Q: Who is Alkemy Water for?
A: It is for active people who want to replenish and rehy- drate themselves.
Q: What makes Alkemy Water different from other sport drinks?
A: Two clinical trials of Alkemy Waters demonstrates that it replenishes electrolytes depleted during exercise, just as well as Gatorade®, but it does not contain any of the sugars, calories, and artificial ingredients many sports beverages offer consumers.
Q: Where were studies presented?
A: Our most recent study was presented at the 2008 American College of Sports Medicine Annual Meeting.
It concluded that there were no statistically significant differences in any measure of hydration, between Alkemy Water and Gatorade among active female study participants. Subjective comments regarding taste and comfort favored Alkemy Water over Gatorade.
Q: Why is electrolyte replenishment important?
A: Electrolytes are critical to your health by allowing your body to maintain normal blood pressure, regular sleep patterns, focus, proper cardiac rhythms, endocrine balance and intestinal balance, along with the benefit of increased muscle strength.
Q: Does Alkemy Water deliver additional health benefits?
A: Yes. Benefits of drinking Alkemy Water may include reducing body fat, fighting fatigue, aiding in healthy digestion, supporting your immune system, and increasing your overall health.
hese statements have not been evaluated by The Food and Drug Administration. This product is not intended to diagnose, treat, or cure any disease.